Carmel Paternity Lawyer
Helping Parents Establish or Dispute Paternity
Paternity cases are often fraught with high stress and emotional turmoil. In these times, it can be challenging to understand your legal options both for the present and the future. You may want to respond impulsively to resolve the matter quickly. However, it is wise to gather your facts before making any major decisions.
You should not have to struggle to understand your legal situation or to understand your best plan of action, especially when so much is at stake. By putting your case in the hands of the experienced Carmel paternity lawyer at Hains Law, LLC, you will enjoy peace of mind and your case will proceed with greater ease.
Joshua R. Hains is a paternity attorney with a decade of experience practicing family law. Over the course of 10 years, Attorney Hains has handled a variety of family law cases and has represented clients on both sides of paternity disagreements. He is well equipped to navigate the legal process from any angle.
Call our firm at (317) 588-2883 today to get started with a free initial consultation.
What Is Paternity?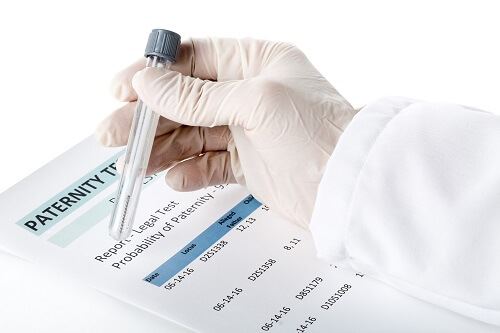 Paternity is the legal process of establishing the father of a child. By establishing paternity, fathers have all the same parental rights and obligations as the mother, including the right to request custody and parenting time. Even if parents are living together or planning their wedding, it is important to establish paternity. In the event that their relationship deteriorates, the parties will have established certain rights and responsibilities for the child. In addition, legal paternity establishes rights to Social Security, inheritance, veteran benefits, and life and health insurance benefits.
A man is presumed to be a child's biological father if:
The child was born during a marriage between the man and the child's biological mother, or no later than 300 days after the marriage's termination by death, annulment, or dissolution
The man and the child's biological mother attempted to marry but the marriage was void or voidable, and the child was born during the attempted marriage or no later than 300 days after its termination by death, annulment, or dissolution
The man undergoes a genetic test that indicates with at least a 99% probability that the man is the child's biological father.
Paternity is legally established through a paternity affidavit or by filing in court to establish paternity. Once paternity is established or acknowledged, a father is considered to be the birth parent. With paternity comes rights and responsibilities, including being subject to a child support order.
The Paternity Affidavit
Both the mother and father must sign a paternity affidavit. The paternity affidavit can be executed within 72 hours of the child's birth or at the local health department in the jurisdiction where the child was born any time before the child has reached the age of emancipation. It is important to note that if a man has signed a paternity affidavit and then wants genetic testing, he must request it within 60 days of the date he signed the paternity affidavit.
If there is any doubt about paternity, a man should not sign the paternity affidavit and should complete a DNA test instead. After 60 days, the court will not set aside a paternity affidavit and the man is financially responsible for the child.
Either party may utilize the paternity affidavit and have the court conduct a hearing to address the issues including confirming paternity and establishing custody, parenting time, and child support.
If there is not a signed paternity affidavit, the mother, the alleged father, or a prosecuting attorney may file a paternity action. At an initial hearing, the mother and alleged father may agree to paternity or request a genetic test. The genetic test must be performed by a qualified expert and approved by the court. The court will not accept an at-home DNA test to establish paternity. In the event the genetic test confirms paternity with 99% certainty, the court will then address issues discussed above.
Paternity Fraud
If you believe you have been falsely named as a child's biological father, or if you are being accused of a false accusation, Hains Law, LLC can help.
Paternity fraud is when a mother intentionally names a man as the father of her child even though she knows he is not the biological father. There are certain remedies to paternity fraud, but timing is everything. Ultimately, the specific facts of each case will determine the parties' available remedies.
If a man has signed a paternity affidavit, he is entitled to file a paternity case in court and ask for genetic testing within 60 days of signing. If the genetic test shows that the man is not the father, the court shall set aside the paternity affidavit. Outside of 60 days, the man's paternity may not be disestablished, unless fraud, duress, or a material mistake of fact is shown to have existed at the time the paternity affidavit was executed.
Challenging Paternity
It is important to note that just because a man's genetic test results reveal he is not the biological father, the court may be unable to disestablish paternity. Thus, the man who is not the biological father may still be responsible for child support. Indiana courts have long held that a man's challenge to paternity when he has previously acknowledged himself to be the father should only be allowed in extreme and rare circumstances. Our Carmel paternity lawyer can explain your rights and options.
Regardless of whether the parents are unmarried or in the process of a divorce, if a parent has doubts about the child's biological father, it is important to request a genetic test as soon as possible.
Do You Need a Lawyer for a Paternity Test?
It is best to retain a paternity lawyer when you are pursuing a paternity action. Whether you are a mother trying to get child support or you are a father trying to get custody or visitation rights, a lawyer can help protect your interests and your child's interests.
How Long Does a Paternity Suit Take?
The length of a paternity suit depends on a variety of factors. Paternity needs to be established and once it is, custody, visitation, and financial issues need to be resolved. In general, paternity litigation can take up to a year, but if issues can be settled through mediation, then it could be as fast as three months.
Request a Free Phone Consultation Today
With a decade of experience practicing family law, Attorney Joshua R. Hains has the focus and dedication to see each case through to a successful conclusion. A resource both during the process and in the future, Attorney Hains keeps his clients informed. When you place your paternity case in Attorney Hains' hands, you can set your mind at ease with the knowledge that the lines of communication are always open.
To understand your legal options, contact Hains Law, LLC today at (317) 588-2883.