Grandparent Visitation Lawyer in Carmel
Protect Your Bond with Your Grandchild
Indiana has recognized that a child's best interest is often served by having meaningful contact with his or her grandparents. However, Indiana has balanced the parents' right to raise their child according to their wishes and the grandparents' right to participate in their grandchildren's lives. In the event that grandparents and parents are unable to agree on child visitation, grandparents are not without options to attempt to gain scheduled time with their grandchildren.
If you are seeking visitation rights to your grandchild, you can find compassionate and comprehensive assistance from Hains Law, LLC. Our grandparent visitation attorney in Carmel has represented numerous grandparents in their efforts to maintain a bond with their grandchildren.Call us at (317) 588-2883 or contact us online to get started with a free phone consultation.
Seeking Visitation Rights as a Grandparent
As a grandparent, you do not enjoy the same rights to a child as that child's parents. That said, you still may be able to obtain legal access to spend time with your grandchild.
A grandparent may seek visitation rights of their grandchild only if:
One or both of the grandchild's parents are deceased
The grandchild's parents' marriage has been dissolved in Indiana
The grandchild was born outside of marriage. If paternity is not established, a paternal (father's side) grandparent may not request grandparent visitation
It is important to note that if the grandchild's parents are both living and are still married, a grandparent cannot request the court order visitation. Further, when the grandchild's parents' marriage has been dissolved in another state, in certain circumstances, it is possible for a grandparent to seek child visitation in Indiana with the help of our Carmel grandparent visitation lawyer.
Grandparent Visitation Petition Process in Indiana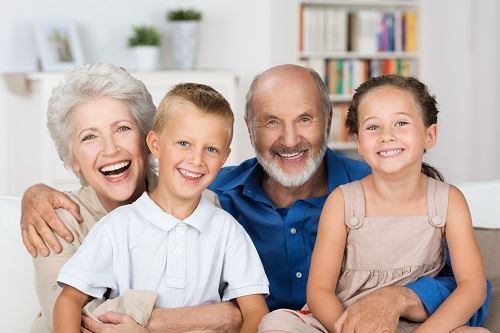 A proceeding for grandparent visitation starts with filing a petition in the county in which the grandchild resides or the court that has jurisdiction over the parents' dissolution of marriage. If a petition is filed and an agreement is not reached, the court will hold a hearing in which the parties will present evidence to support their position regarding grandparent visitation. If the court determines that visitation is in the grandchild's best interest, it may grant visitation rights.
In doing so, the court must enter an order that addresses:
The presumption that a fit parent's decision about grandparent visitation is in the child's best interest
The special weight that must be given to a fit parent's decision regarding non-parental visitation
Some weight given to whether a parent has denied or simply limited visitation
Whether the grandparent has established that visitation is in the child's best interests
There is not a set standard of time that grandparents receive under the Grandparent Visitation Act. The court entering visitation orders should consider each relationship to set forth a grandparent visitation schedule that is in the child's best interest.
Maintaining the Court Order
Once an order granting or denying grandparent visitation is entered, the grandparent or parent may request that the court modifies or terminates the order. The party must present evidence to show a change in circumstances to modify the visitation order. The court may modify the grandparent visitation order so long as a modification would serve the best interest of the child.
Visitation rights survive the establishment of paternity by a court other than in an adoption proceeding. Grandparent visitation rights survive an adoption of the grandchild by a stepparent and a person who is biologically related to the grandchild (grandparent, sibling, aunt, uncle, niece, or nephew).
Consult with Us Today
Visitation cases are emotional, which is why the assistance of a Carmel grandparent visitation lawyer is so crucial. These types of cases require focus and a reasonable approach to protect the grandchild's best interest. With a decade of experience, Joshua R. Hains is prepared to handle your case.
Please contact our firm to set up an initial consultation – just call (317) 588-2883.