Property Division Attorney in Carmel
Ensuring Your Assets Are Divided Fairly
In a divorce in Indiana, the court follows a "marital pot" theory. At the time that the petition for dissolution is filed, this theory places all of the couple's property (assets and liabilities) in one pot that is subject to division. Indiana courts follow a rebuttable presumption that a 50/50 division is just and reasonable. However, the court may find that a party should receive a greater percentage of the marital pot after hearing relevant evidence.
If you need help navigating the property division process during your divorce, Hains Law, LLC is here to help. We offer comprehensive representation to simplify the process and ensure that your rights are protected every step of the way. Our Carmel property division attorney brings 10 years of experience to your case.
Call (317) 588-2883 or contact us online to request a free phone consultation.
How Courts Divide Marital Property
Indiana courts place all property in the marital pot, regardless of who owned it and regardless of whether it was a gift, inheritance, or owned before the marriage.
When awarding property, the court will examine factors including:
Each spouse's contribution to the acquisition of the property, regardless of whether the contribution produced income
Whether property was acquired by each spouse before the marriage or through inheritance or gift
The spouse's economic circumstances at the time that disposition of the property is to become effective
The parties' conduct during the marriage as related to disposition or dissipation of their property
The parties' earnings or their earning ability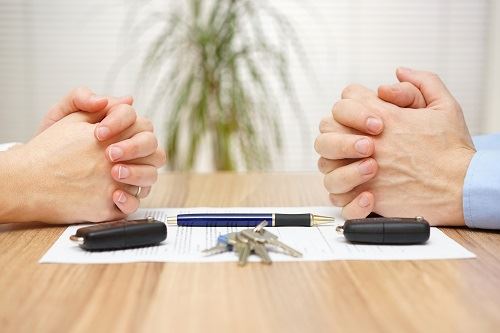 It is important to keep in mind that there is no guarantee that a court will grant you your desired division of personal property at a contested final hearing. Before getting married, parties can sign a prenuptial agreement to set forth a formula that varies from the 50/50 presumption to divide their marital pot. If they are already married, they can draft a post-nuptial agreement. With a prenuptial or post-nuptial agreement in place, the court and the parties have a clear picture of how to divide the marital pot in the event of divorce.
The Carmel property division attorney at Hains Law, LLC is ready to fight to protect you and your assets. Call now to schedule a consultation with our skilled lawyer.
Hains Law, LLC Can Help with the Division of Assets
Carmel property division lawyer, Joshua R. Hains, brings a decade of experience to every case he handles. Our Carmel property division lawyer can help you navigate the complex process of dividing marital assets while protecting your rights and interests.
Contact us at (317) 588-2883 to discuss your options.